Come Join Our Team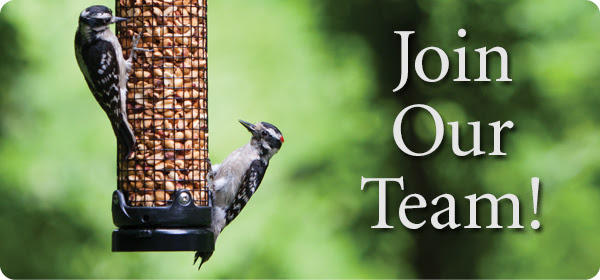 Are you our next great employee?

The difference between Wild Birds Unlimited and other retailers goes far beyond what we sell. It's who we are. Enthusiasm, professionalism, informed advice and superior customer service are the hallmarks of our store.
Seeking a Sales Associate to join our flock.
We are looking for a friendly, high energy, intelligent and self-motivated individual to join our team right away.
Qualified applicants must be comfortable with basic computer operations, working on your feet and be able to lift 20 lbs consistently during the day and occasionally heavier weight. You will be stocking and unloading deliveries as well as carrying out orders and greeting guests.
A love of nature is required but we are willing to teach you about the birding hobby.
We offer a great work environment for the next member of our team.
This position can be part-time or full-time. Flexibility in scheduling is also needed.
We are seeking a strong applicant ready to work and take care of our customers with the utmost respect and kindness.
Qualified individuals can download an application here or in person at Wild Birds Unlimited 2001 E Lohman Ave, Suite 130, Las Cruces, NM
Our goal is to provide quality products, service, expertise and a high energy shopping experience. Help customers bring nature into their own backyards and lives. Come join our team!