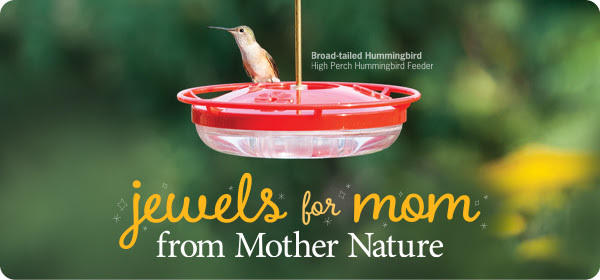 This Mother's Day, Help Mom Attract Hummingbirds
Hummingbirds are often called, "the jewels of nature," and it's no wonder! From their diminutive size to their aerial acrobatics, hummingbirds are always fun to watch and their arrival is one of the most exciting parts of spring and summer. On top of that, mother hummingbirds are probably the best moms of any bird species because they raise their young without any help at all from their mate.
For Mother's Day this year, give your mom a hummingbird feeder from Wild Birds Unlimited. It's sure to be the best "jewel" she receives.
A Special Offer For You
20% Off
One Regularly-priced Item*
Promo Code: HUM20
*Valid in-store at the Las Cruces Wild Birds Unlimited or by shopping online at www.wbu.com/lascruces. One discount per purchase. Offer not valid on previous purchases, sale items, Optics or Daily Savings Club Memberships.
Offer valid thru 5/15/22.
Wild Birds Unlimited
2001 E. Lohman Avenue
Las Cruces, NM 88001
575-523-5489